E-Waste Recycle & Disposal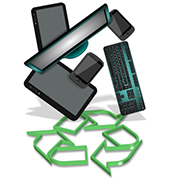 Bardissi Enterprises will take small to large amounts of unwanted e-waste and issue your company a certificate that guarantees the safe and responsible handling of these materials to our local warehouse.
We work with organizations of all sizes.
Bardissi Enterprises will collect personal e-waste from your employees. Many of our companies encourage their employees to bring their unwanted computers and televisions from home, which Bardissi Enterprises will pick-up and discard for you.
What Do We Recycle?

We recycle ALL electronics including:
| | |
| --- | --- |
| Computers | Computer Monitors |
| Cables | Batteries |
| Shredders | Scanners |
| Printers | Stereo Systems |
| Copy Machines | Cell Phones |
| Speakers | Circuit Boards |
| Calculators | Routers |
| Electronic Components | Cameras |
| Fax Machines | Radios |
| Recorders | Televisions |
Please contact us for any questionable electronic item.
Corporate Recycling
Federal and state regulations regarding electronic waste specifically require businesses and organizations to dispose of non-working and obsolete products in an environmentally sound manner. These regulations are meant to prevent selected high technology products from ending up in landfills where toxic elements could leach into the water stream. Call Bardissi Enterprises for an immediate quote for disposal costs.
Large quantity generators, schools, government agencies and certain non-profit organizations may be eligible for quantity pricing or special discounts. You may also be entitled to an offset or revenue sharing, depending on the quality of the equipment.

Indicate quantity and item type (computer, monitor, terminal, printer, other).
If necessary, Bardissi Enterprises will contact an authorized individual to arrange equipment review and pick up.
Government Regulations
State and Federal environmental agencies have determined that certain non-working and obsolete electronic products must be treated as hazardous waste if intended for disposal. Monitors and terminals contain from 4 to 8 pounds of lead, and fail the TCLP test for toxicity. Circuit boards in electronic products contain lead solder, mercury, and cadmium which also often fail the TCLP test. These items should be disposed of in an environmentally sound manner.
The key points of most state and federal regulations are:
The good news is Bardissi Enterprises will provide a turnkey solution. Simply email using the form "request information" on our homepage toolbar and we will promptly make removal and disposal arrangements.