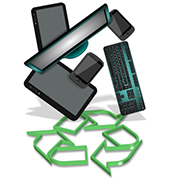 How We Handle the Problem
Bardissi Enterprises will take small to large amounts of unwanted e-waste and issue your company a certificate that guarantees the safe and responsible handling of these materials to our local warehouse.
We work with organizations of all sizes.
Bardissi Enterprises will collect personal e-waste from your employees. Many of our companies encourage their employees to bring their unwanted computers and televisions from home, which Bardissi Enterprises will pick-up and discard for you.