Secure Data Destruction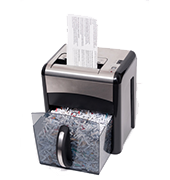 Destruction of Sensitive Customer Information
Whenever a computer or hard drive leaves your company, it's important to remove sensitive information or erase the hard drive first.
The drive might be recycled into another computer, donated to charity or simply sold off -- but whatever its fate, it's good common sense to wipe it clean before putting it into anyone else's hands.
Reformatting the hard drive can be a tedious operation, especially if it's the only drive in the system and Windows doesn't allow you to format its own system disk. Bardissi Enterprises will make it easy to wipe a system clean.
Bardissi Enterprises will:
Properly format or destroy Hard Drives.

Will guarantee with a letter of destruction that all data will be destroyed from collected units.

Dispose of the equipment in accordance with all Federal and State Environmental laws.

Remove any personal information attached to the computer.
From drive to metal: complete destruction, along with a letter of destruction and of course, peace of mind!